Dear cyclist – JOIN "TEAM SOUTH COAST BIKEWAY" to support both CLEAN WATER
in Buzzards Bay, and also, SAFE CYCLING
in the South Coast!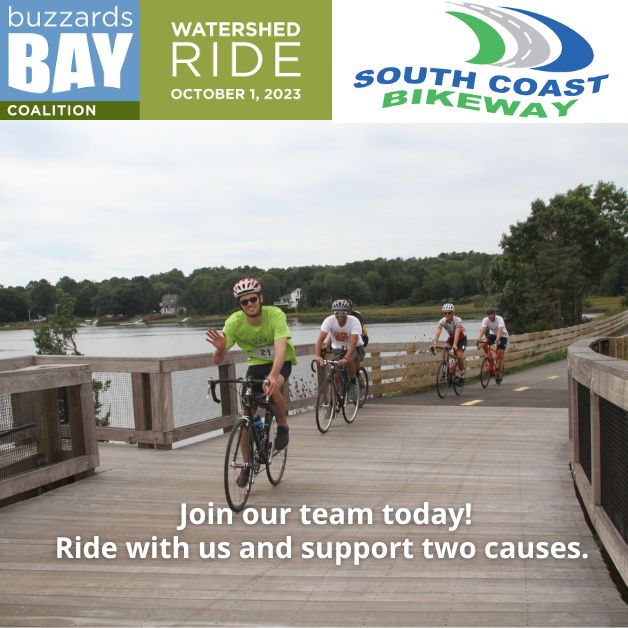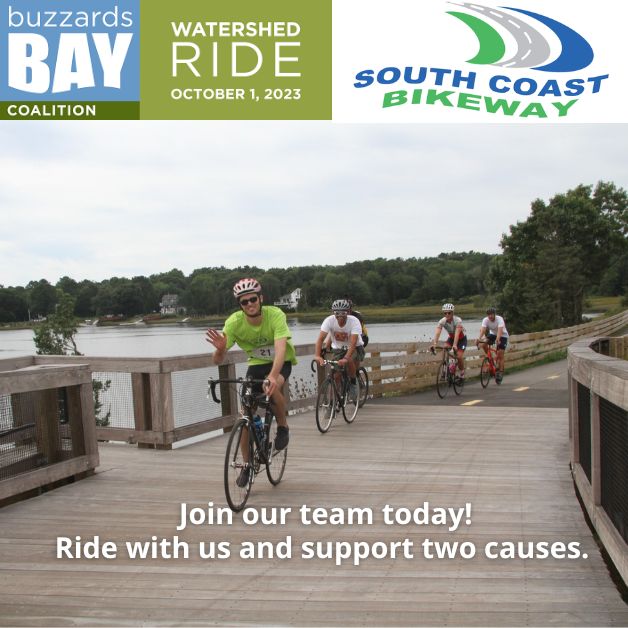 Thank you so much for participating in the Pedal for the Path in prior years, and for supporting the South Coast Bikeway Alliance's (SCBA) ongoing efforts to build a multi-use path connecting Providence to the Cape. Your funding is appreciated and we are having an impact!
We write for two reasons: to let you know that we are not organizing a ride this year though we have information about how you can ride locally and financially support us, and to offer an update on recent bikeway progress.
While there will be no Pedal for the Path this September, you can support the SCBA by riding in the October 1 Buzzards Bay Watershed Ride. While the main purpose of this ride is to support the Buzzards Bay Coalition's efforts for clean water in Buzzards Bay, the SCBA has been given permission to "piggyback" on their fundraising. Whatever you raise for Buzzards Bay will be matched by (still-to-be determined) donors to the SCBA. Over the past several years, our SCBA Team has raised $25,000 for the Buzzards Bay Coalition. Help us raise $30,000 this year! This is sufficient to meet the required match for a MassTrails grant of $120,000 to fund further design and engineering of the remaining South Coast Bikeway.
To encourage you to ride, the Buzzards Bay Coalition will offer a 50% registration discount if you sign up for the SCBA Team, by September 1. Use code EARLYBIRD. You can choose from 35-, 75-,  or 100-mile routes, and will enjoy food trucks, beer, and live music at the finish. (See link for details.) Ride with us! Wear your Pedal for the Path T-shirt! 
As for the updates, progress is considerable. We have completed two "Closing the Gap" feasibility studies that identified routing options for the remainder of the South Coast Bikeway, analyzed the costs and benefits of each, and are ready for the design/build phase. Thanks to those of you who offered suggestions in the various open meetings, and thanks to Westport, Dartmouth, and New Bedford for Community Preservation Act (CPA) funds, BayCoast Bank funds and to the Commonwealth for a Mass Trails grant.
More trail news…We especially call your attention to this from Mattapoisett: Ribbon cutting! New Trail Segment Opens! – South Coast Bikeway. This segment is just gorgeous – if you have not ridden it yet, put it at the top of your list.
If you are not able to support the SCBA by riding in the Buzzards Bay Watershed Ride, you can still donate. Details here: https://southcoastbikeway.com/support/. Or simply mail a check to the SCBA c/o SRPEDD 88 Broadway, Taunton, MA 02870. Thank you!
Want to learn more about our past Pedal for the Path events?